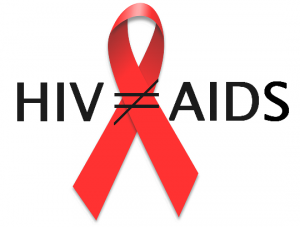 The general population uses the terms HIV and AIDS interchangeably to describe the sexually transmitted disease; however this is 100% incorrect. To begin lets correctly define these two terms. HIV stands for human immunodeficiency virus. Just like the definition reads, the virus attacks the human immune system.  AIDS, acquired immune deficiency syndrome, can result from contracting HIV. AIDS refers to the diseases and immunosuppression that are associated with persons having HIV.
Once contraction of the virus occurs, the person is considered to be HIV positive. As the virus progresses, it destroys the T cells of our immune system. T cells are the main line of defense against infection.  This makes affected persons very susceptible to disease and cancers. After disease sets in or a large decrease in white blood cell count a person is then said to be diagnosed with AIDS.
The earlier transmission is detected there is more potential to manage the virus. Interestingly enough, just because someone is infected does not mean they exhibit symptoms and they act more as a host. These people can pass along the virus to others and have an opposite life-threatening effect. With this said, it is extremely important to routinely screen for the virus and always use protection.