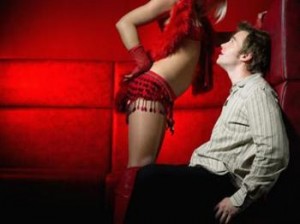 Do you ever go to strip clubs where they break the "rules"? Do you ever drink to the point where your inhibitions are lowered?  Do either of these scenarios happen at the same time?  If you answered yes to any of these questions, you may want to consider STD testing.
Now there are conflicting studies on whether the rate of STDs is higher or just average in strippers, but (and no offense to strippers) my money is on a higher rate on the whole.  There is plenty of empirical evidence suggesting quickie blow jobs, vaginal, and anal penetration do occur despite the "rules" in place.  Even if no sexual contact is encountered, herpes can easily spread by kissing a person who has an active infection on his or her mouth.
So the moral of the post is:  If there is sexual contact any STD is fair game.  The most prevalent STDs contracted via casual sexual encounters are Chlamydia and Gonorrhea, but it is also possible to contract Syphilis, Trichomoniasis, HIV, Herpes, Hepatitis, HPV, etc.