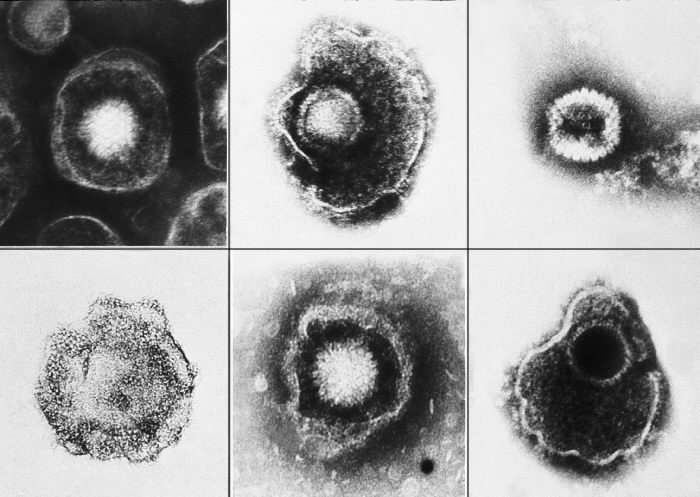 We have all heard the terms before: cold sores and fever blisters. We have them on our lips, on our checks, nose, and even around our eyes or have seen them on other people. More often than not, especially when we are young, we do not always identify these "sores", these "blisters" as Herpes. When I was younger, I just always assumed cold sores came from having a cold and fever blisters came from having a fever! After all, this is something that seems perfectly logical…right? Thankfully now though, times are changing, but unfortunately not fast enough. The fact is, and it is pretty much black and white, if you have or have had a cold sore/fever blister, you have Herpes. Here in the United States alone, 50 million people have Herpes with one million new infections recorded every year! And if you're like me, you enjoy traveling the world, then the statistic is: one out of five people on the globe has the virus.
For the life of me, I'm still not quite sure why we just don't call the sores what they are: Herpes Blisters or how about Herp Sores for short…then there wouldn't be much confusion at all. While I'm on the subject of being confused, if you happen to have sores on the inside of your mouth, those are typically canker sores and are not caused by the Herpes virus. In fact, they are not caused by a virus at all and typically heal on their own within two weeks. Researchers are still trying to figure out exactly what causes canker sores and why…but I digress. I just really wish I had known all this stuff earlier in life – I certainly would not have been so carefree back in the day. All it would have took is someone saying: "Herpes simplex-1 is a sexually transmitted disease that causes cold sores and fever blisters and can be contracted by an infected person at anytime…even through a kiss. Not only that, but you can also spread the virus yourself to other parts of your own body!  All it takes is touching an active sore/blister and then inadvertently touching your eyes or nose." Another eye-opening fact is that many people think; "Well, my cold sores/fever blisters have gone away…so I'm no longer sick or infected…" This unfortunately is not the case.
The skinny about Herpes simplex-1 (HSV-1 or commonly known as Oral Herpes/cold sores/fever blisters) is that it is a virus and once contracted, can remain dormant after its initial outburst…assuming that you even have an outburst at all. Some people do not experience any symptoms. You may not see any physical affects but the virus is still there or worse yet, you do have symptoms but do not recognize them as the Herpes virus. Like me, you thought it was due to a cold, but it's gone now and everything is fine. Sometimes, for others, it will flare up again due to stress, hormone changes in the body, and just by being out in the sun. Otherwise, if your lucky, it doesn't show symptoms and stays hidden away. But don't let this fool you. It is still contagious (and highly contagious when a cold sore/fever blister is present) and can be transmitted just by kissing and/or having hand to body contact. This means that parents, older siblings, other relatives, friends and even strangers that have HSV-1 (Oral Herpes) can easily spread the virus not only to each other but also to kids…just by having close contact to them. To make matters worse, an infected kid can even spread the HSV-1 virus to other kids just by rubbing his/her cold sore and then touching other kids around their face. Ever walk into a kindergarten classroom? That's all they seem to do…it's a big 'scatch and sniff' playground! It's no wonder that Herpes is leading the way in the STD race…it doesn't discriminate who it infects. And if that wasn't enough, Oral Herpes can be transmitted through anal sex as well as good ole' fashioned traditional sex. "But it's called Oral Herpes!" you say. Yes, and hence this article – we have let Herpes manipulate us into thinking a lot of things that are not true. You can spread Oral Herpes (HSV-1 ) to the genitals. It's that easy.
The credit should not all go HSV-1 however. You see, it has a bigger brother…HSV-2. Yes, there is another form of the herpes simplex virus known as Genital Herpes. It is transmitted through sexually intercourse and can cause itching or burning on your genitals, buttocks and/or you may experience painful urination. Like its younger brother, it can also produce painful sores/blisters or a rash in those areas as well. However, there may not be any noticeable symptoms, but like Oral Herpes you can still easily transmit or contract HSV-2 if you and your partner are not using any protection during sexual intercourse. The only good news with Genital Herpes is that research has shown that, unlike HSV-1, HSV-2 does not spread to the mouth and other regions of the face.
If you know you have had unprotected sex and/or are experiencing any of these general symptoms, it is advisable that you go get tested. Decreased appetite, muscle aches in the lower back, thighs, fever, and/or generally feeling sick all the time. Sores/blisters may form around your genitals, buttocks, thighs, mouth, eyes, and even fingers. And, as mentioned above, a rash could breakout too. Again, Herpes tries to fool us into thinking it is something else ie, an insect bite, poison ivy, poison oak, a cold, a fever…etc, etc. Don't fall prey to it's false advertising.
Unfortunately, at present time, both strands of Herpes are incurable…but at least they are manageable. Plus, new research and studies are showing and producing hopeful results. Like for instance, SwissBioTech recently released news about a new project to help fight against the virus called Lumavita. And be wary by the "false marketing" Internet ads that say "home/natural remedies to cure Herpes" and such. In my experience, if it sounds too good to be true – it usually is. Many of the remedies may help sooth and relieve the pain and itching from the sores/rashes and may even help keep you from breaking out with new ones, but the virus will still be in your body. Please take the appropriate steps for safe sex – use condoms and/or dental dams.
If you are showing symptoms or signs, please get tested for Genital Herpes and don't let the Herpes' false advertising campaign deceive you!